The Godfather Blesses Robert Herron
June 5th, 2014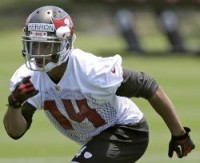 Gil Brandt is an iconic figure to many current NFL general managers and draft gurus. Brandt is a living, breathing dinosaur of scouting, having been the architect of the ancient Dallas Cowboys dynasty and leading the player-evaluation way in many areas into modern times.
Brandt remains busy with various duties for the NFL and media, including penning a column for NFL.com.
In his latest identification of 20 third-day gems who could have a quick impact from last month's draft, Brandt included Bucs rookie wide receiver Robert Herron, the pride of Wyoming taken in the sixth round.
Hooray! Joe's going to toast that with a icy cold beer. Why not?
Buccaneers general manager Jason Licht admitted recently that the Bucs had Herron ranked much higher on their draft board than where they took him. (Hmm, so the Bucs drafted for need with those O-linemen in the fifth round?) And Brandt seems to back up that claim.
Herron's 4.3, 40-yard-dash speed clearly shows up on the practice field. Joe's eyes have seen it easily and repeatedly. Now Herron hasn't flashed the best hands, but it's early and he very well could be adjusting to the "cannon" of Mike Glennon versus the noodle arm he caught balls from in college. Herron does seem improved from his debut at rookie minicamp.
Regardless, Joe's certain Herron is a lock to make the roster, barring a Michael Clayton impression during preseason games.
Joe's really anxious to see what kind of YAC (yards after catch) ability Herron has, but that will have to wait until August.