"That's Out Of My Office"
June 4th, 2014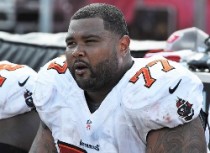 The Carl Nicks mess hit a new level of doom and gloom yesterday.
Yes, Nicks was absent again from the voluntary workouts his healthy and injured teammates all seem to enjoy.
Offensive coordinator Jeff Tedford was asked about Nicks, and he said anything about Nicks is beyond the scope of his pay grade and rank. "That's out of my office," Tedford said.
Meanwhile, Patrick Omameh worked through the OTA practice as the No. 1 left guard, with Jamon Meredith at right guard.
Sadly, Nicks' absence isn't really news. It's sad when a guy simply showing up becomes newsworthy.