Super Bowl And Playoff Leaders Are Different
June 9th, 2014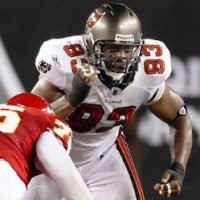 Things smell a lot different around One Buc Palace these days for Gerald McCoy, and it's not just the absence of MRSA sanitation chemicals or vomit-inducing defensive line stunts.
What McCoy is sniffing is a different kind of leadership.
Joe wrote last week about the great leadership challenge facing McCoy personally. (Joe advises you to click the link). But McCoy will have a lot of help and guidance.
Heck the guys sandwiching McCoy on the defensive line, Clinton McDonald and Michael Johnson, have years of playoff experience and McDonald has a shiny new Super Bowl ring. That's a far cry from Stylez White and Roy Miller counseling then-rookie McCoy during the "Race to 10" of 2010.
McCoy explained how much he believes the Bucs' leadership has changed on CBS Sports Radio last week.
"Nobody really besides Ronde [Barber] had been to a Super Bowl, let alone the playoffs. We only had like two or three people on the team who had ever been to the playoffs. So we had no experience and no really veteran leadership," McCoy said of some of his past Bucs teams. "Well now we have guys who've been to the playoffs, a coaching staff who's been to the playoffs and the Super Bowl; we have players who have been to the Super Bowl and won a Super Bowl. So we have all types of veteran leadership, all types of experience that can tie together and that actually knows how to win, and has been there and knows all the formulas."
It's somewhat ironic to hear this, considering McCoy's defensive line coaches last year were Randy Melvin, who won a Super Bowl as Bill Belicheat's D-line coach in New England, and Bryan Cox, who had a stellar NFL career and won a Super Bowl as a player.
McCoy also was on a defense last year with Darrelle Revis, Dashon Goldson and Jonathan Casillas, guys with all kinds of playoff experience. And Vincent Jackson (seven career playoff games) and offensive coordinator Mike Sullivan were on the other side of the ball.
This just tells Joe that McCoy is really feeling the impact from Johnson, McDonald and the new coaching staff. Hopefully, they can all help lift McCoy to new heights — Warren Sapp heights.