"Something Is Wrong With Josh Freeman"
June 3rd, 2014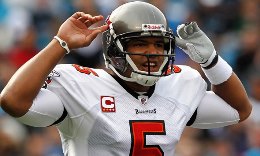 Tampa Bay Times beat writer Rick Stroud offered a bit of what it's been like for him trying to get to the bottom of the Josh Freeman mystery.
Stroud talked about it on WDAE-AM 620.
Stroud insists "something is wrong with Josh Freeman" and explains that his investigation has hit a dead end.
Among Stroud's various takes was, "I never really got the sense that Josh Freeman loved football."
Joe doesn't buy that at all. Freeman had success under multiple coordinators and systems. He didn't get there on talent alone.  Love of the game and drive made that happen. But something did go wrong.
Perhaps Greg Schiano broke a fragile Freeman beyond repair? To the point where he's content to live out his life with eight-figures in the bank. Regardless, Freeman's life and career is his responsibility, not Schiano's.
It is all a big mystery, and one Freeman won't likely share until he gives up on football as a career. (You can listen to Stroud's full audio below.)