Sapp: Every Player Takes Snaps Off
June 25th, 2014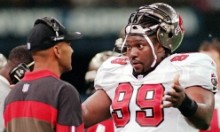 Talk defense with Lovie Smith and the Bucs head coach will express how he wants every last one of his players running to football all out, from the defensive line on back.
Lovie wants speed and an intense commitment to chase and hunt the football, no matter your size and position.
So knowing that, Joe raised an eyebrow — and had a good laugh — listening to a recent podcast of Warren Sapp on CBS Sports Radio in Atlanta. Iconic No. 99 said there is a limit to hustle, and, of course, Sapp told a story.
"Every player takes snaps off," Sapp said. "Listen, I used to have a rule with Rod Marinelli. I'd say listen, 'You want me to chase the screen for 25 yards, or you want me to rush the next down? You get one or the other.' Because if I gotta make tackles 25 or 15 yards down the field, then we're in for a long day.

"Let's not play this, you know, take plays off or whatever, because that's always the catch line."
Now Joe must disagree with Sapp to a point. Every player does not take snaps off. Perhaps Sapp should have clarified to say every starter gives questionable effort once in a while.
However, Joe suspects Lovie won't tolerate any sort of loafing for a good while. Why should he? That's no way to set a standard for a new regime.
D.J. Moore, the Bucs cornerback who played for Lovie in Chicago, told Joe that Lovie often gives detailed player grades for practice, something that might be new for many on the team. Moore said he'd advise his teammates never to dare to give second-rate effort.