"Red Flags" For Doug Martin
June 2nd, 2014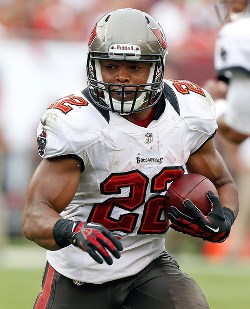 There were more than a few eyebrows raised on the second night of this spring's draft when the Bucs selected running back Charles Sims in the third round. If the Bucs ever had a loaded position on the roster, it was running back.
Most Bucs fans reacted in anger, horror, disbelief. Yet just minutes after selecting Sims, Bucs coach Lovie Smith told Buccaneers.com multimedia maven Scott Smith he was seeking a pass-catching running back, hence the selection of Sims.
Football savant Evan Silva or Rotoworld.com believes this spells doom for Bucs running back Doug Martin.
2 red flags on Martin: New OC Tedford underutilized RBs in pass game at Cal & TB drafted Charles Sims in Top-70 to be primary pass-game back.

— Evan Silva (@evansilva) June 2, 2014
There are two trains of thought here. One is to buy what Silva Twittered, and it seems logical. But Joe believes the end is not near for Martin and that Lovie wants to keep Martin on a pitch count of sorts. No position in the NFL has a shorter shelf life than running back because of the pounding backs take. It is actually smart to not run Martin into the ground.
The other option is simple: Sims gives the Bucs more diversity at running back. And if he is ever teamed with Martin in a two-back set, a defense certainly couldn't key on the run, now could they?