Panthers New Deep Threat: Tiquan Underwood
June 29th, 2014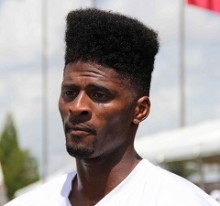 Just 10 Sundays from today is the opening real-football show of the Lovie Smith regime, the season-opener at home against the Carolina Panthers.
Joe is salivating, and Joe is also smiling when he thinks of the gutted and revamped Panthers wide receiver corps.
Is it possible that the Panthers will look to the stretch the field consistently with Bucs castoff Tiquan Underwood? The answer is yes.
Joe recommends this solid Underwood feature by Jonathan Jones of the Charlotte Observer
His struggles continued with Matt Blanchard, who again tried Underwood deep downfield and the ball went through his hands. Underwood eventually caught two passes near the end of practice.

"When you're playing with new quarterbacks and receivers, we're all feeling each other out," said Underwood, who said he had tweaked his hamstring but should be 100 percent by training camp. "By the time training camp gets here we're all familiar with each other. Those passes you don't hit in (organized team activities), hopefully you're hitting in training camp, the preseason and then the season."

Coach Ron Rivera said Underwood has a legitimate opportunity with the Panthers as a receiver and on special teams.

Rivera likes his deep-threat abilities, and he believes Underwood has learned from each of his eight cuts.
Joe's hoping Cam Newton won't have his A-game going from the opening whistle of opening day. With a crew of new receivers, changes to his offensive line, all under the sweltering Tampa heat, and a new-look Bucs defense to figure out, Newton shouldn't have his best game lighting it up to the likes of Underwood.
Now will that mysterious Bucs offense be able to move the football against Carolina? That would be on early Christmas present.