More Gushing For McCown's Leadership
June 19th, 2014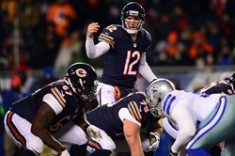 Yes, the Mike Glennon Mob believes their guy could be the opening day starter. Prominent analysts agree.
But it seems every last person working at One Buc Palace not only raves about starting quarterback Josh McCown's leadership, but puts it on a Hall of Fame plane.
General manager Jason Licht tossed the latest long stem roses to McCown last night.
"The addition of Josh McCown, legitimately being one of the best leaders I've every been around, he got the whole offense on the same page at an early part of OTAs by having his own OTAs offsite. And he had a 100 percent participation, and there were very few mental errors at that first practice," Licht told Steve Duemig of WDAE-AM 620. "And it had everything to do with that."
Now Licht didn't just arrive from Rutgers. His long NFL history includes working for regimes that had Tom Brady, Dan Marino, Steve Smith, and various superstars, Hall of Famers and future Hall of Famers. Licht hasn't even seen McCown operate outside of underwear football and already he's declaring him an elite leader.
Also, remember what Jeff Tedford said of McCown early this month: "McCown is one of the truest professionals I've ever been around, I mean as far as just an unbelievable leader, so knowledgeable. Puts in extra hours every day, you know, studying film."
Yes, your 2014 Bucs are McCown's team — for now.
Joe was thinking about Licht's history last night and realized Licht saw first-hand how 36-year-old Jeff Garcia rose from the bench — and a dead career — in Philadelphia to lead the 2006 Eagles into the playoffs and win a playoff game. Garcia won six of his eight starts that season, which included two playoff games. Of course, Chucky then came calling and Garcia was a Pro Bowler for Tampa Bay the following season.
McCown has extremely fresh legs and a fresh body for a guy who turns 35 in a couple of weeks. Age is not the issue. The only question about McCown is whether he can play well for a full season, something he's never done.