McCown Leading Night School
June 10th, 2014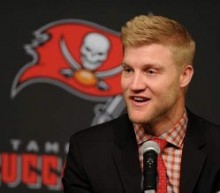 Bucs starting quarterback Josh McCown absolutely won't rest until his offense is firing on all cylinders and ready for the nasty Panthers defense it will see in Week 1.
That's why McCown has been leading top secret practices Joe first reported weeks ago. And now there's more over-and-above work going on.
Today, following sweltering minicamp practice at One Buc Palace, McCown talked about using every available minute to get the offense in sync and the urgency in the NFC South.
McCown appears to be leading a Buccaneers night school of sorts.
"We're playing in a division with Drew Brees, who's been doing that in that system for eight or nine years. And Matt Ryan the same thing for a long time. And Cam [Newton] is really getting his feet established in that system. And so that's six games a year that we have to compete with those offenses and play good football. Let alone the other teams that we're facing the NFC North, the Bears and those offenses and Aaron Rodgers," McCown said.

"We have to get up to speed quick. Time is of the essence. It just takes the work. You just have to put in the time. And that's what we're seeing with the young guys, everybody. There's extra things that need to be done to get that established. And it's still a process. It's still a daily thing. But it's grabbing the extra hours here or there at night to spend together that maybe gives us an edge, that maybe speeds that learning curve up."
Nobody will accuse McCown of not giving 100 percent and more. Joe can only imagine how jacked up McCown is to have another shot to lead a team from the offseason, an opportunity he hasn't had in a decade.
McCown had sharp practice today, minus a terribly forced throw to Chris Owusu over the middle that was picked off by Danny Gorrer. But that's just one play in underwear football. (You can catch all of Joe's practice observations here.)
McCown said he's very pleased with his teammates' progress and work rate, and he believes the Bucs are on track to deliver the precision the Bears showed last year as a new offense, one that finished ranked No. 2 in the NFL.