McCown Lands A Brees Comparison At One Buc
June 26th, 2014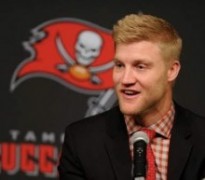 Don't think starting quarterback Josh McCown is the pulse and absolute leader of the Buccaneers?
Well, you Mike Glennon Mobsters (and you know who you are) might want to hear these words of a Tampa Bay linebacker.
Plugging his New Jersey life skills and football youth camp recently on WEPN-FM in New York, strongside linebacker Jonathan Casillas was asked about the status of the Tampa Bay quarterback position. Casillas explained that McCown is top dog in the mold of Casillas' quarterback when he won a Super Bowl with the Saints.
Dave Rothenberg: Have they named a starter, do you believe in one guy over the other yet? Or are you in just kind of a wait-and-see attitude?

Jonathan Casillas: Well, what I can tell you now is Glennon is learning a lot from McCown," Casillas said. "(Laughing) I'll let you know that right now.

McCown's a good quarterback. Not to take anything away from Glennon. Glennon helped us win games last year, and if it wasn't for him we never probably would have won any games, just to be honest. I think what he did last year, he set himself up for his career, to have a great career. You know, he had the confidence underneath him to throw the ball down the field to our targets, Vincent Jackson and some guys. So he was able to get experience early.

McCown is just, he's on a another level right now, I believe. Like I said, don't take anything from Glennon; he's just only in his second year. But McCown looks like he's played a couple of years in this game. It's a strong comparison, but he reminds me of Drew [Brees], not just the way he throws the ball, but his approach to the game. The first one in, last one out. You know, he's always around. He's very [communicative], very personable. And you can tell he's a born leader. You know, he's not even trying to do much now, but people are following him, just his approach to the game. Like I said, Glennon is learning a lot from him. So, if Glennon can beat him out this year, that would be great. Because at the end of the day, if Glennon can beat McCown out, then we're going to get a good quarterback.
This is encouraging, feel-good stuff for Bucs fans on all fronts from the straight-talking, typically candid Casillas.
The Bucs need McCown, at 35 years old, to have a career year, which would represent his first full NFL season as a successful starter. Hearing stuff like this from Casillas, a respected veteran, makes Joe that much more optimistic for a McCown miracle.