Lovie Ordered Josh McCown Signing
June 13th, 2014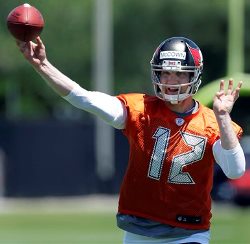 It is sort of a hidden parlor game, or an endless bar debate over bottomless glasses of beer: Who calls the shots with the Bucs?
Well, of course, the ultimate answer is Team Glazer. But no matter who is general manager and coach, Bucs fans demand to know who pulled the trigger on a draft pick, signed off on cutting a player or pursued a free agent.
The politically correct answer is, of course, it's a team effort. But that does little to keep Bucs fans from twisting and turning in their beds at night, or to keep bartenders from hollering at patrons to pipe down, or to quell the waves of callers to sports talk radio.
In the case of Bucs quarterback Josh McCown, it was Bucs coach Lovie Smith who in no uncertain terms ordered general manager Jason Licht to sign McCown. That's the suggestion from Greg Bedard of theMMQB.com.
While the Bucs spent a lot of money on free agents like Verner, Collins and end Michael Johnson, they feel the most impact will come from adding McCown at quarterback. He is providing the type of team-wide leadership that the Bucs have missed since, arguably, Derrick Brooks retired after the '08 season. Licht didn't know McCown well, but after he was hired, Smith basically mandated that team sign the 34-year-old journeyman.

"Lovie talked about it since day one when I was hired about Josh and how Josh was the type of person we needed in this locker room and on this team for the very reasons you're talking about," Licht said. "Of course I believe what Lovie said and trust him, but to see it firsthand within the first days that we actually signed him … the guy is just special. He lives, breathes and eats football. Somehow, he just has a way to capture the entire team. They all love this guy. He's really one of the most special leaders I think I've ever been around."

That's high praise coming from Licht, who was around Tom Brady in New England for years. "And I say it meaning it too," Licht said.
Now saying McCown is the biggest team leader since Brooks put the fear of God into opponents may be a stretch. Gerald McCoy has always tried to be a leader, and is. But Joe gets Bedard's point.
McCown is basically an assistant coach on the field. He talks and players not only listen, but respond.
If Bucs offensive coordinator Jeff Tedford's offense clicks, and the Bucs win, then Joe has no question that a big reason will be the moment when Lovie Team Glazer hired Licht and before he stepped in his new office, Lovie issued his first command.