Louis Murphy's Secret Red Eyeball Change
June 12th, 2014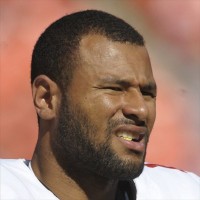 Yes, there are standouts in spring underwear football, but it's really limited to skill positions guys who can show off their abilities without hitting anyone and violating NFL rules.
New Bucs wide receiver Louis Murphy is one of those guys. The veteran Florida Gator looks like a true No. 1 wideout at times.
Joe says that to illustrate the talent level in Murphy. His speed is evident. He's got size. And he makes his share of elite-body-control catches. He earns the proverbial "looks great."
None of this means too much, though. Murphy, at best, if he makes the roster, will be a backup to Vincent Jackson and Mike Evans with another receiver taking on slot duties. In an offense that likely will use two tight ends often, Joe doesn't expect Murphy to be a game-changer this season. But it would be darn nice for a change to have a guy on the bench with the talent Murphy is flashing in practice. Plus, he's got experience, 121 catches in five seasons for three teams.
There's also something new going on with Murphy, and he's trying to keep it as secret as the Jeff Tedford playbook. Murphy has been wearing red contact lenses on most days, giving him an eerie look.
He was pressed for details yesterday, and Murphy fought off those questions, only saying that it's a medical –not vanity — thing and it's been helping him immensely. Simply put, Murphy can see better.
Surely, Murphy could see before, but even slightly better vision could do wonders for a receiver's confidence and production. An optimist might say Murphy, who says he's faster than Jeff Demps, is poised for a breakout season.