Licht: No Playoffs Equals Failure
June 17th, 2014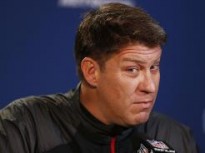 There were a few times Joe nearly had a seizure last season, and this September moment was one of them, when Greg Schiano proclaimed he would need more than two years to load up his roster properly.
That kind of thought process is a foreign language to Bucs general manager Jason Licht.
Speaking to ESPN blogger Pat Yasinskas last week, Licht explained that a Chiefs-like turnaround is expected.
Licht was with Arizona last season when the Cardinals went 10-6 but didn't make the playoffs.

"We made some strides and it seemed like people wanted to throw a parade for us, but the fact of the matter is we failed because we didn't make the playoffs,'' Licht said. "Being 10-6 would be great for the Bucs this year, but the goal is making it to the dance. If we had any other goal, I'd be very upset.''
Joe loves the mindset. Schiano's always-a-one-game-season mindset had a very high school feel to it. It's ok to have high goals and expectations. A lot of good can come from that. The "Race To 10" mantra under Raheem Morris is a great example.
One thing Joe gleaned from his many chats with Darrelle Revis was that Revis was always thinking about the playoffs, whether it was how he was preparing his body, or the context in which he would answer questions; it was always with an eye on performing in January.
It's great to have leadership that brings that same mentality. Win now.