Julius Peppers Offers Lovieball Advice
June 20th, 2014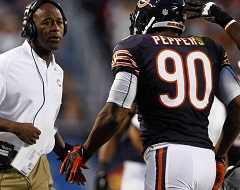 After Lovie Smith traded a second round pick to the Buccaneers for the late Gaines Adams in 2009, and that experiment failed on the field, Lovie broke the Bears' bank to bring future Hall of Famer Julius Peppers to Chicago.
Peppers earned his money, notching 30.5 sacks and making three Pro Bowl in three years under Lovie.
So Peppers, now on the Green Bay Packers, knows a thing or two about Lovie's defense, and he's been sharing it with new Bucs defensive end Michael Johnson.
In the SportsTalkFlorida.com video below, Bucs beat writer Jenna Laine caught up to Johnson after the final minicamp practice, and Johnson revealed that Peppers has been giving him some tips.
Among them was Peppers counseling Johnson to "pay attention to small details," and Johnson acknowledges that those details of the defense end "craft" were a huge theme of the spring.
Johnson is one of the unspoken X-factors of the Bucs season, and the new regime. The Bucs granted Johnson, coming off a 3 1/2 sack season, $24 million in guaranteed cash. That's basically three years of locked in $8 million salaries.
Joe's hoping Johnson can replicate Peppers' role and production. The thought of him playing like Adams is too much to stomach. (Enjoy the Johnson interview below.)