"I've Been Given A Platform"
June 23rd, 2014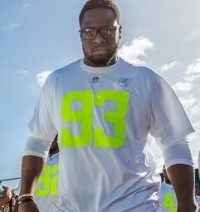 Bucs manbeast defensive tackle Gerald McCoy doesn't want to talk about his looming new contract, even if Jason Licht is.
McCoy is all about team, though that's just one aspect of his life.
McCoy also is all about helping kids. Whether its giving time for the Team Glazer local eyeglasses charity, or buying marching band uniforms and more, McCoy seems to happy and eager to give.
No. 93 was at it again last week. After Bucs minicamp broke he headed back to his hometown to host a kids camp. Joe looked a little deeper and it appears it was free for the children involved.
Enjoy the video. McCoy explains he believes he's been given a platform to help others.