"Has To Be His Do-Or-Die Season"
June 9th, 2014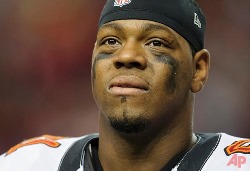 Joe pessimistic towards Da'Quan Bowers, especially after defensive line coach Joe Cullen fired a warning shot in the direction of Bowers last week, as recounted by Woody Cummings of The Tampa Tribune.
In short, Cullen groused how Bowers was not in shape (again) and needed to be in "great shape" in order to fulfill all the expectations of him when he was drafted in 2011.
Well, that warning shot rattled the windows of the Manhattan apartment of fight-instigating, barista-training, pedestrian-bumping, olive oil-lapping, popcorn-munching, coffee-slurping, fried-chicken-eating, oatmeal-loving, circle-jerking, beer-chugging, cricket-watching, scone-loathing, college football-naïve, baseball box score-reading Peter King of Sports Illustrated and NBC Sports fame.
In his must-read Monday morning column on his website, theMMQB.com, King types that he can hear the 24 countdown clock ticking on Bowers' career all the way from One Buc Palace.
9. I think when word leaks out of spring practices that a player is not in top shape, the translation is: The guy's been dogging it this off-season, and this is his warning. That's what I thought when the Bucs sent word that Da'Quan Bowers, a second-round pick three years ago, wasn't in good shape at team activities last week. Bowers has played just 1,009 snaps in a disappointing three-year career so far. This has to be his do-or-die season in Tampa.
Again, Bowers in on his third coaching staff since being drafted. And Lovie is a no-nonsense coach. If he isn't going to tolerate a wide receiver having a mattress in his front yard, he surely isn't going to tolerate a defensive end out of shape, especially a player he didn't select.
Now to be fair, Bowers is coming off knee surgery of some sort. But it feels like Bucs coaches think he should be much further along.
Joe will never forget the sight of Bowers on one knee sucking air last year in training camp after being handed a starting job, after former Bucs rock star general manager Mark Dominik let sack leader Michael Bennett walk away for no good reason. Bowers' lack of shape did not sit well with then-Bucs commander Greg Schiano.
Nor should it have.