Goldson Absorbed Lovie Strike Lessons
June 15th, 2014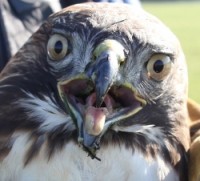 So Dashon "Hawk" Goldson, has Lovie Smith been able to shed new light or teach you anything about avoiding getting flagged and suspended for illegal hits?
Joe got a chance to ask Goldson this on Thursday.
Surprisingly, the veteran of seven seasons and two Pro Bowls said Lovie did deliver him fresh and valuable perspective.
"Personally, yeah, for me they did. I spoke to Coach Lovie and my position coach Mykal Smith. The shined their insight on hitting and lowering the target and all that," Goldson said. "I'm sure they're going to implement that, especially when we get the pads on."
Goldson shared with Joe some of the hitting nuances specific to his game but didn't them made public. Joe will say Goldson is optimistic he can avoid the ongoing wrath of NFL officials and Roger Goodell.
It sure would be something if Goldson could return to the outstanding form he had with San Francisco in 2011 and 2012. What an early Christmas gift that would be!
Despite sitting out all spring practices recovering from ankle surgery, Goldson has retained his leadership role. Lovie mentioned last week that he's always hearing Goldson at practice.
Regardless, Goldson needs a huge season to remain a Buccaneer in 2015 and justify the $8 million-a-year contract. His money is no longer guaranteed starting next season, and the Bucs surely would prefer to go shopping with that cash rather than retain an average performer.