Doug Martin: I Can Catch
June 12th, 2014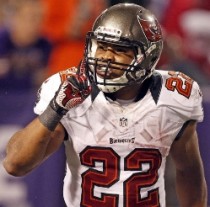 When rookie running back Charles Sims was drafted in the third round and, almost immediately, Bucs coach Lovie Smith stated the main reason was for Smith's pass-catching abilities, many began writing obituaries for Doug Martin's days with the Bucs.
While we know now the reason for drafting Sims was both for depth and to give Bucs offensive coordinator Jeff Tedford another toy, the wake of the draft has seemingly left Martin with the tag that he cannot catch the ball.
That was news to Martin.
"I think of myself as a complete back," Martin said. "Catching the ball out of the backfield and pass blocking are a big part of a running back's game in this day and age. It is definitely something I like to take credit for. I was running some deeper routes but I also had the swings and the checkdowns, crosses, flats. We have a lot of that this year and we also have other things in store.

"I'm real anxious. I just want to go out and play like I did my first year here. I play because I love it.

"Last year? We don't like to mention a thing about last year. Nothing went our way last year. Being out six or eight games, that was hurtful for me. You can't get frustrated. You have to keep pushing and keep plowing away. Hopefully holes open up. Some did [last year], some didn't. They stacked the box."
Lovie has said early and often Martin is his bellcow back. But like in Chicago, Lovie wants diversity in his backfield. Joe thinks this is just smart. You keep Martin on a pitch count and instead of running him into the ground and out of the league in three years, you keep him around for another five or six.