Da'Quan Bowers Offers Career Guidance
June 2nd, 2014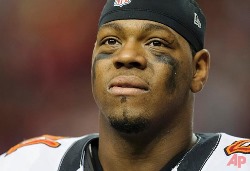 It's that time of year, when loads of high school kids contemplate how much summer cash they can earn flipping burgers or manning drive-thru windows.
They may think they're cool and ready to take on the world after taking home a few hundred bucks a week, but fast-food labor isn't necessarily a great future, notes Da'Quan Bowers.
The Bucs' defensive end took to Twitter this morning to share some higher mathematics in the form of career guidance.
It'll take 19 and a half years to make 420k on a minimum wage salary at McDonald's

— Da'Quan Bowers (@DaQuanBowers91) June 2, 2014
A wiseass Bucs fan might have read that and thought Bowers was considering his own future over an Egg McMuffin. But don't count out Bowers yet. He's been injured repeatedly through his career, but on Wednesday he celebrated his health, also via Twitter.
Starting to get my feet back under me!! #bucnation #itsabucslife #firethemcannons #getchasum http://t.co/iVh9k8B6z2 — Da'Quan Bowers (@DaQuanBowers91) May 29, 2014
Joe hopes Bowers can fulfill his potential. Joe's hardly counting on it, but what a heavenly gift it would be if Bowers can get after it like he did in college.
As for what will happen if Bowers doesn't produce this year, enjoy the video below. Bowers already has another heavenly career in gospel.