Busting Loose
June 8th, 2014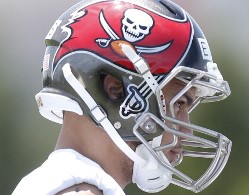 For reasons unknown to Joe, it seems rookie wide receivers take a little longer to acclimate than, say, a rookie running back.
Former NFL scout Greg Gabriel believes Bucs rookie wide receiver Mike Evans won't have much of a transition. In his column for NationalFootballPost.com on breakout rookies, Gabriel lists Evans as an instant star.
Mike Evans, WR, Tampa Bay Buccaneers: I know it can take a receiver some time to adjust to life in the NFL. What makes it even harder for Evans is that he only played two years of football at Texas A&M. Still, Evans has some rare traits with his size, speed and ability to adjust to the ball.

I am predicting that offensive coordinator Jeff Tedford is going to surprise people with his offense. He will find ways to utilize Evans by playing to his strengths. Granted, the Bucs have a journeyman quarterback in Josh McCown, but McCown will also surprise people by picking up where he left off last year in Chicago.

McCown knows how nice it can be playing with a talented big receiver, as last year he had Brandon Marshall and Alshon Jeffery at his disposal. In Tampa, McCown has a similar sized duo in Evans and veteran Vincent Jackson. Look for Evans to put up better than average numbers for a rookie receiver.
This seems like a lot of hope, and we all know about that word. But with Evans, there may be reason for excitement right away.
First, he is 6-5. You can't teach tall. Then, he has incredible leaping and catching ability. The guy is a natural. A third thing you cannot teach is heart. Evans has a burning desire and loves to block and make physical contact.
As usual, it all likely boils down to whether Bucs quarterback Josh McCown get time for Evans to get open?