Will Lovie Follow His Favorite Models?
May 8th, 2014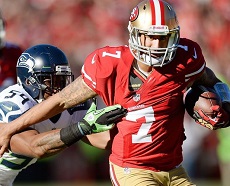 Shortly after Lovie Smith was hired, he delivered likely his most telling interview to date. Mike Florio, of Pro Football Talk Live, was peppering the Bucs' head coach in January, and Lovie revealed the 2013 NFL teams that had his full attention and admiration.
Joe believes Lovie's take provides a window into the Bucs' pursuing Johnny Football and the rest of their 2014 draft philosophy.
Lovie said he liked the 2013 editions of Seattle, Carolina and San Francisco "and how they're set up to win football games."
So what does that mean? Mobile quarterback? Punishing running game? A nasty front-7 and pass rush? Likely, it's all three of those things.
Joe considers that and understands how Lovie might attack the first draft of his new regime by landing a mobile quarterback, a mauling guard, and another talented pass rusher with his first three picks — wherever those picks end up.
Don't think the Bucs will draft a pass rusher? Remember these facts from Lovie's nine drafts in Chicago:
In 2012, the Bears' first pick was a defensive end. In 2011, their second pick was a defensive tackle. In 2010, a DE was snagged in the second round. In 2009, two of Chicago's first three picks were defensive linemen. In 2008, the Bears took a DT in the third round. The train was rolling in 2007, when a DE was taken at No. 62 overall. In 2006, Lovie was adding another D-lineman in the third round.
No, Lovie did not draft a D-lineman high in 2005, but that was after drafting defensive tackles Tommie Harris and Tank Johnson in the first- and second-rounds of 2004.
Gregg Rosenthal of NFL.com reminded readers last night that Lovie wants to copy that Seahawks-49ers template, and Rosenthal suggests that's the juice behind the Johnny Football-to-the-Bucs rumors.
4. Tampa Bay trades up for Johnny Manziel: Perhaps the Buccaneers could stay at No. 7 and still land Manziel, but moving up to No. 2 or No. 3 would ensure they get him. Lovie Smith would love to copy the Seahawks-49ers template of a dominant defense paired with a mobile quarterback that can make plays on his own. More importantly: Manziel to Tampa is a move that ownership could be pushing for.

The Glazer family can be more involved in the process than commonly believed, and the Buccaneers have a desperate need to sell tickets. This is an organization that has kept things close to the vest before this draft, and it wouldn't be a surprise if they have a big splash planned.
Joe doesn't buy the Team Glazer theory Rosenthal floated. There is no "desperate need" to sell Bucs tickets. Last Joe checked the Bucs are a virtual ATM machine. It's like that for every NFL owner. It's not like Team Glazer bought the Bucs for a $1 billion last week. The franchise is worth about five times what they paid for it — in their 20th year of ownership.
(For those who want to watch that January interview of Lovie, it can be seen here.)