Warren Sapp Offers Advice To Jason Licht
May 5th, 2014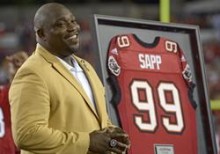 Everybody has an opinion on who the Bucs should select at No. 7 Thursday night. The mayor of Tampa, the local church minister, your favorite Hooters waitress, Little League coaches.
But very few hold the weight of Pro Football Hall of Famer Warren Sapp.
The Bucs' legendary defensive tackle, who isn't shy about anything, told NFL Network he has already consulted with Jason Licht and advised him about who he should draft.
And Sapp's input may surprise some.
"Wide receiver — I already told them," Sapp smiled. "I'm sick of seeing defense, defense. You have to score some points to win some games."
Joe can't disagree with Sapp. If you don't score points, you aren't going to win. This may shock some of you, but Joe thinks the defense is just fine right now and in good hands with Lovie Smith and company.
Joe wouldn't mind if the Bucs used the entire draft to select nothing but offensive linemen, receivers, and, oh, yeah, a quarterback.
(In case you forgot, here's Sapp's No. 1 overall pick — also his No. 1 QB.)