Today's On-Field Practice Observations
May 20th, 2014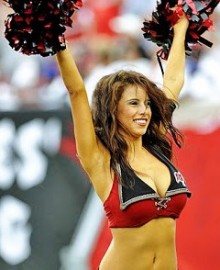 Joe joined his fellow media types at Buccaneers practice today under the broiling late-morning sun at One Buc Palace (When will Team Glazer sell ice cold beer at these things?) Of course, Joe took all kinds of notes from drills and offense-vs-defense work.
Here you go:
*Mike Glennon is doing a fine job of hitting wide receivers along the right sideline. You see, you Mike Glennon Mobsters, Joe doesn't hate Glennon.
*Skye Dawson with a bad drop of a Glennon pass. Too much "cannon?"
*Louis Murphy goes low to haul in a pass from Josh McCown over the middle.
*Glennon and a wide receiver were on the wrong page. Either Glennon threw the wrong way or his receiver (Joe didn't catch who it was) broke the wrong way. Either way, Danny Gorrer took advantage of the gift with a pick six along the left sideline.*
*McCown's best pass seems to be a jump ball today. Just throw it high and let the wide receiver fight for it. Granted, neither Vincent Jackson nor Mike Evans are on the field.
*Fullback Lonnie Pryor of Florida State goes low to dig out a pass from Glennon to the left side.
*Pretty: Tim Wright makes a beautiful catch of a perfect pass from Mike Kafka on a slant from the right side for six points.
*Another catch by Pryor to the left side. He is showing good hands today. Pryor also stood out during a muffed-punt-type drill on special teams.
*Across the field, defensive line coach Joe Cullen is heard screaming praise for DE Steven Means, as the linemen worked tirelessly together. There are no wasted seconds with that group.
*You know, it helps to catch the ball before you run with it. Glennon hits Jeff Demps right in the hands along the right sideline, about as much of a bulls-eye pass as you will see, but Demps turned upfield and forgot one important thing: Hang on to the ball.
*Kafka rifles a ball through traffic and hits Brandon Myers on the run in stride for a touchdown.
*Sweet catch by Tommy Streeter along the left sideline, pulling the ball back to his body with the pass coming from Glennon.
*Glennon suffers a coverage sack, if there was such a thing in underwear football, as no receiver could get open.
*Perfect pass by Kafka to Solomon Patton of the University of Florida, but — whoops! — Patton tanks the play and drops it.
*Patton makes up for catching a Glennon pass that was thrown behind him.
*Doug Martin continues to bite the football while running loose to the end zone. Greg Schiano would be so proud.
*Safety Major Wright juked and off balance in a tackling/angles drill strictly with his position group.
*No Carl Nicks to be found. Joe looked. Vincent Jackson wore a baseball cap all day and rested a "tweak" of his hamstring.
*Route-running drill was a lot of fun to watch. Mike Evans sure looked raw with his footwork. Yes, that was before he tweaked his hammy and sat out the rest of practice.
*Want a polished route runner? Chris Owusu got hefty praise from coaches and looked the part. "Wu" is how he's known by teammates. A fun word to say.
*Eric Page drew the second most praise from coaches.
*McCown's passes were razor sharp throughout this drill.
*The dropsies continued for rookie sixth-round pick Robert Herron. Every practice Joe's watched with Herron, the young man has some Kellen Winslow Vaseline hands. However,, in every practice Herron flashes the speed and tight routes and explosion that can wow everyone watching. On one play, he made CB Rashaan Melvin look like a JV athlete in coverage.
*Seems to be some nice chemistry between Glennon and Louis Murphy. Smooth connections.
*Bounce pass by Glennon to Brandon Myers. Major miscommunication.
*A Luke Stocker sighting! With the first team! Nice connection for 10 yards from McCown.
*Absolute laser uncorked by Glennon to Tim Wright – 25 yards.
*Jeff Demps fumbles! Keep in mind this was a handoff up the middle and no contact is allowed. In other words, Demps coughed this up with a mere reach-in slap to the ball. Not good. Defense recovers.
*Interception! Alterraun Verner intercepts McCown. Low thrown ball to Louis Murphy about 12 yards to the right side. Diving pick. Nice play. McCown visibly frustrated.
*Drop! Tommy Streeter from Glennon.
*New left tackle really has quick feet and can run. All those fresh legs from years of not starting? Seriously, Joe hates to judge linemen from no-contact practices, but it's clear he's got some real wheels and athleticism.
*"The Cannon" overthrows Russell Shepard by three yards 40 yards downfield.
*Broken pocket and McCown shows great burst, feel and mobility. Completion to Lavelle Hawkins.
*Click here for Joe's detailed notes on the cornerbacks.
*Last man off the practice field? Mark Barron who was taking extra work, mostly footwork, 1-on-1 with an assistant coach.