Stopwatch Magic And Value For Robert Herron
May 14th, 2014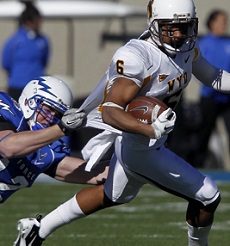 Lost a bit in the NFL Draft frenzy was the point-guard-sized receiver drafted for the best basketball team in the NFC South: "The Dunkaneers," as general manager Jason Licht called them.
The little guy Joe is referring to is speedy slot-receiver candidate Robert Herron, who stands 5-9 and was a star at Wyoming.
Per Licht, Herron ran a 4.31 40-yard dash when the Buccaneers worked him out. Licht delivered this detail on WDAE-AM 620 this week, when Licht also said the Bucs had Herron rated much higher than where they drafted him in the sixth round. Before the draft, Herron typically was projected as a fourth-round pick.
Herron played under Bucs quarterbacks coach Marcus Arroyo in 2010, when Arroyo was the Wyoming offensive coordinator that season. Ironically, Herron was converted to running back under Arroyo– his freshman year — with 40 carries for a whopping 235 yards. He blossomed as a receiver last season with 72 catches for 932 yards and nine touchdowns.
Herron was one of a handful of college guys who penned a pre-draft diary for USA Today. Here's an excerpt:
It was a big change for me, coming from Los Angeles. I hadn't been outside there too much. I'm used to the city. Wyoming was a lot less populated, a lot less things to do, and I had to get adapted to that. Another thing I had to get adapted to was the weather. It was cold. Real cold. You had to buy different clothes. You had to learn how to play in the cold, take care of your body.

It also was a change just learning. I wouldn't say I was not that good at certain subjects, but the level I was at – I wasn't ready for that college education. I had to stop procrastinating. I had to put extra time to decide just to study, and I feel like tutors helped me a lot. I had tutors for every class to help me knowhowto study. You could just study on your own, but if you don't know the right techniques or take advantage of the time that you have, studying is useless.

I started off in fall camp as a receiver and I got moved to running back, which I hadn't played since I was younger. After my first year, I started going through more at receiver, getting the technique and the routes and everything, and it took off from there. Now, going to the combine, I have to start all over again – show these teams I can run the routes, I can consistently catch the ball, I will run that fast time. All around, I feel like I have to go in and do well at every drill.
In addition to being a draft pick Licht now considers to be a great value, one has to think Herron as a great shot of making the Bucs' roster. Does Tampa Bay have another promising slot receiver, a guy with some crazy speed in space?
Chris Owusu, Jeff Demps, Lavelle Hawkins, Louis Murphy, Eric Page, Tommy Streeter and more will all be battling with Herron for three or four roster spots. Joe's not betting against Herron versus that crew.