Staggering Stats For Mike Evans
May 8th, 2014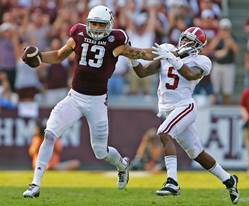 If the Bucs want big-strike ability, then they should be able to do just that when the 2014 season kicks off. YAC, however, will be another matter.
First round draft pick Vincent Jackson Mike Evans put up crazy numbers last year. Of course, it helped that he may have had the greatest college quarterback since Roger Staubach to buy him time to get open.
As a sophomore, Evans caught 82 passes for 1,105 yards for a nice average of 13.5 per catch.
His number of catches his junior year, 2013, actually dropped but his average ballooned. Evans caught 69 passes for 1,394 and an eye-popping 20.2 yards a catch. That is impressive.
Last year Josh McCown had a pair of big receivers to throw to in Chicago. He does again this year. YAC? That's another story.