Savvy Lovie Smith
May 15th, 2014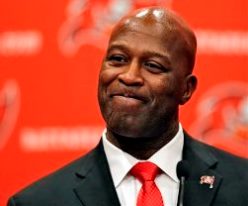 The Bucs sure got fans aroused this weekend after an offensive draft, giving whoever is quarterbacking the Bucs major weapons, and perhaps a couple of blockers, too.
Still, Andrew Astleford isn't drinking the Kool-Aid. The Fox Sports Florida Bucs beat guy likes what he saw but isn't quite willing to begin comparing the new Bucs to Air Coryell quite yet.
"What can I say?" Smith said. "First off, you can't assume people are a certain way. I do believe in offensive football, and you can't just win by defense. I know I have been telling you guys that. I know the actions are speaking a little bit louder than the words."

Smith's words received some laughs in a small room at One Buc Place. He fooled everyone the past three days. He came to the Bucs with the reputation as a smart defensive mind, something the Glazers saw up-close when he made his NFL coaching debut with them as a linebackers coach from 1996 to 2000.

Still, Smith is a savvy man. Even with a roster overhaul in free agency that took Wite-Out to the former roster, he knows this team has a long way to go. The problem remains on offense. The Bucs ranked 30th in scoring offense (18 points per game) and last in passing offense (176.2 yards per game) last year. Sometimes, it was silly to watch.
It is as if Astleford is saying, "Hello, this is 2014. Quarterback play determines how far you go in the postseason." If that's Astleford's angle, Joe wholeheartedly agrees.
When Joe was chatting with Lovie at the NFL Scouting Combine, Lovie said once, in so many words, "We're going to give you something to write about. We're going to win some games." Bucs general manager Jason Licht was on NFL Network last night all but saying Bucs fans should not have patience. It is time to win now.
The team has gone out and beefed up the defensive line, drafted all sorts of weapons on offense. With words and actions, the coaching staff and front office has sure put a lot of pressure on a guy who has limited starting experience and/or a guy who not only guided the Bucs in fewest passing yards in the NFL, but led them to the No. 32-ranked offense.