Sapp: Johnny Football Not Worthy Of Top-15
May 7th, 2014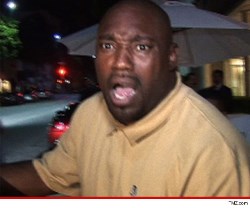 The loudest Bucs-loving voice in the media, Hall of Famer Warren Sapp, used to be called the "QBKilla."
As for Johnny Football, Sapp said tonight on NFL Network that the young quarterback is a great candidate to be a GMKilla.
Sapp weighed in during a Total Access discussion about whether Johnny Football is a top-15 draft pick. NFL Network is buzzing on this subject because their in-house draft guru, Mike Mayock, doesn't have Johnny Football in the top-15 of his one and only mock draft. (The second half of Mayock's mock comes out at 9 p.m.)
Sapp said Johnny Football is too boom-or-bust and is the kind of pick that gets people fired because there is no middle ground with him.
This was really no surprise to Joe. Sapp's on record stating Teddy Bridgewater is not only his No. 1 quarterback, but his No. 1 overall pick.
Sapp's not a big fan of Jadeveon Clowney, and he loves Mike Evans. Also, Sapp is no member of the Mike Glennon Mob.