Rare "Area Of Concern" Identified By Lovie
May 18th, 2014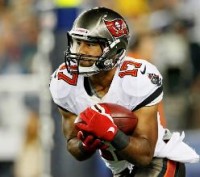 Though it would be nice to be 22 years old entering his third NFL season, Joe would not want to be Bucs return man Eric Page this morning.
Speaking yesterday to local media, Lovie Smith gave a rare glimpse into something that might be giving him angst. After spending so many years in Chicago with Devin Hester, now a proud member of the Falcons, Lovie sees to be unsettled by the Bucs' equivalent.
"Punt return. Our punt returner is an area of concern for us a little bit," Lovie said. "So it was good to see some of the guys [in rookie minicamp] and whether they could do it or not."
Now was Lovie expressing concern for Page? Or is punt returner an "area of concern" because Lovie is unsure he has a backup for the position on the roster?
That's a mystery.
Joe's a fan of Page, who missed his rookie season in Denver with a blown ACL. Last season, Page finished as the NFL's tied-for-13th-ranked punt returner, among guys with 15 or more returns.