Rams' Desire For Manziel Is Near Nonsense
May 7th, 2014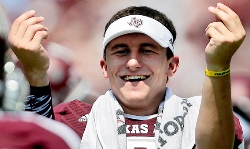 Believe it or not, Joe invests extensive research into Bucs opponents. And given that Tampa Bay has played the Rams the past two seasons, will again this season, and Joe traveled to St. Louis for the 2013 game and has friends in Rams media, Joe feels qualified to offer a Rams opinion.
The alleged interest of St. Louis in Johnny Football with the No. 2 overall pick is as close to a nonsense rumor as you'll find today.
Joe has heard Rams head coach Jeff Fisher do countless interviews, dating back to November, explaining how excited he is that quarterback Sam Bradford will enter his third consecutive year alongside offensive coordinator Brian Schottenheimer. Fisher talks about how rare that is in the NFL (it really is) and about how Bradford isn't just a good player but the future of the franchise. (And keep in mind Schottenheimer runs one of the most stale offenes in the NFL and likely wouldn't even know what to do with Johnny Football.)
Bradford, 26,  played pretty well last year (14 TDs, four picks, three wins) before getting hurt in his seventh start. The punishing Rams running game didn't get cooking until after Bradford blew out his knee.
Then there's the pesky fact that the Rams owe Bradford $14 million this season, and it would be nearly impossible to find a team willing to trade for him coming off an ACL tear in October — Newsflash: former Bucs general manager Mark Dominik is out of the league.
Fisher could make an immediate-impact upgrade in this draft with the No. 2 overall pick. Or he could trade down and score a bounty of fast-impact players. The Rams also have the No. 13 overall pick. Johnny Football is not a quick fix for a Rams team that believes it's ready to win now after going 5-6-1 in their tough division over the past two years.
How confident are the Rams? In the pivotal third year of Fisher's regime, they did virtually nothing in free agency this offseason. Compare that to the Bucs gutting their roster and assigning new jerseys left and right.
The Rams' first "big" signing came two weeks after the free agency bell rang, when they inked the immortal defensive tackle Alex Carrington from Buffalo to be a good rotational guy.
Longtime Rams sage and Post-Dispatch columnist Bernie Miklasz says the Rams have "planted some Johnny Manziel rumors," and Miklasz believes the Rams are either eager to trade down from the No. 2 overall pick, or draft Jadeveon Clowney or a premium left tackle, which he considers a major need.
Joe's confident you can take one of those scenarios to the bank — not the Rams wanting to draft Johnny Football at No. 2.