Phil Simms: Mike Glennon Not A Starter
May 6th, 2014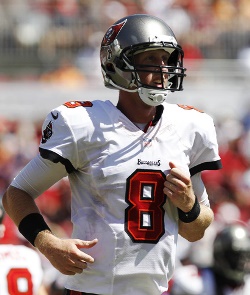 Super Bowl-winning quarterback Phil Simms knows a thing or two about quarterbacks. He guided the New York Giants to their first Super Bowl title against the Broncos, having as close to a perfect game as any Super Bowl quarterback has had.
Simms, a regular contributor to SiriusXM NFL Radio and CBS Sports Network discussing quarterbacks, is great in his detail. Joe's favorite Simms' story was when he saw Packers QB Aaron Rodgers as a rookie in camp. Simms thought he was horrible and declared he would be a massive bust.
A year later, Simms said he was at Packers training camp and out of the corner of his eye, saw some quarterback lighting things up like he never saw before. He asked someone who that gunslinger was. It was Rodgers.
Anyway, appearing on "Movin' the Chains" yesterday, co-hosted by Pat Kirwan and Jim Miller, heard exclusively on SiriusXM NFL Radio, Kirwan bluntly asked Simms if he would ever trade for Bucs backup quarterback Mike Glennon.
Pat Kirwan: Would you trade a third or fourth round pick for Mike Glennon?

Phil Simms: Yes I would. I would be interested in taking him for that. I don't mean any disrespect to Mike Glennon. I think what he did last year – I watched him and we talked about this – he was exactly in the pros from the guy he was in college. It was an easy transition for him. You could see it in preseason last year, watching him play. He got more confident. His strength throwing the football – it started to show up a little better at the end of the year. He got his body and feet into the ground better. No disrespect to him but I wouldn't trade for him thinking he is going to be my starting quarterback. I look at him as a part-time starter guy. And I feel really great if he is my backup because I know he can handle all the situations of the game. So, yes. I would give up a third or fourth rounder for him without even thinking.
Joe would be a little surprised if Glennon is on the Bucs roster come July. Bucs general manager Jason Licht has made it clear he wants additional picks and rumors throughout national NFL outlets claim Glennon is being shopped.
With this draft being so deep in wide receivers, if Glennon could be had for a third round pick, that's another starting wide receiver the Bucs could nab.
If the Bucs draft Johnny Football, Glennon is as good as gone.