Peter King: Bucs Want Johnny, But…
May 8th, 2014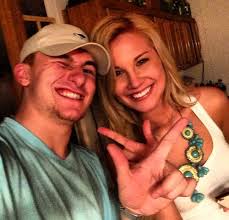 If all things were even, your new franchise quarterback for the Bucs would be none other than Johnny Football, says fight-instigating, barista-training, pedestrian-bumping, olive oil-lapping, popcorn-munching, coffee-slurping, fried-chicken-eating, oatmeal-loving, circle-jerking, beer-chugging, cricket-watching, scone-loathing, college football-naïve, baseball box score-reading Peter King of Sports Illustrated and NBC Sports fame.
The Bucs, said King, want Johnny Football. Problem is, they don't want him that badly.
Speaking with the one and only Chris "Mad Dog" Russo on the station that bears his name, "Mad Dog Radio," one of the family of sports channels found exclusively on SiriusXM NFL Radio, King said the Bucs want Johnny Football and believe he is at the top of the Tampa Bay's draft board for quarterbacks.
However, and it is a big "however," the Bucs currently don't feel he is worth the seventh pick in the draft. So, King says, the Bucs are torn.
"I know they like him a lot," King said of the Bucs' interest in Johnny Football. "They want their quarterback of the future. They view Josh McCown as a one-year band-aid."
So if the Bucs cannot trade back just a few spots, does general manager Jason Licht bite the bullet and call Johnny's name or gamble even more with a lesser quarterback?
Ah, the intrigue and drama of the draft.