Mike Evans Speaks
May 8th, 2014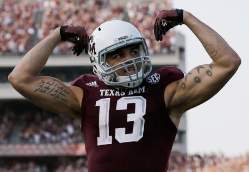 A relaxed and slightly nervous Mike Evans, the new Bucs manbeast wide receiver from Texas A&M, just talked to the local pen and mic club at One Buc Palace.
Here are a few highlights:
On Vincent Jackson and joining him on the Bucs: I'm excited. Ready to learn a lot from him. I wants to learn the finer points of route running.
On the emotion: I was trying not to cry. It's a blessing.
On those who question his speed: I've never been caught from behind.
On Johnny Football: I thought he should have went No. 1, him being my best friend. (Evans then asked reporters, "Is he off the board?" Informed Johnny Football was available at No. 15, Evans shook his head.
In all, Evans was very humble and gave plenty of team-first answers.