Michael Johnson: No. 83
May 25th, 2014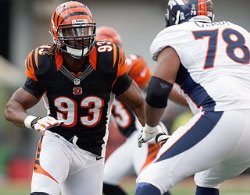 As Joe warned, with the summer holidays starting, the stat nerds over at Pro Football Focus have rolled out their top 101 players in the NFL. Crunching numbers and clogging up Excel spreadsheets created this list.
The second Tampa Bay Buccaneer appearing, counting up from No. 101, is defensive end Michael Johnson, who played for the Bengals last season.
Johnson was tagged at No. 83.
The Bengals' franchise player didn't put up the attention-catching numbers he did in 2012, but his play was (in our eyes at least) a step up. Grading out as our fourth-ranked 4-3 defensive end on the year, it was Johnson's complete play that really impressed us. Not only did he end up with 61 quarterback disruptions (12th most of his peers), but his run grade was only bettered by Rob Ninkovich. That's why the Buccaneers paid the big bucks for him.

Best Performance: Week 3, GB @ CIN, +8.1

Key Stat: Johnson's 25 defensive stops against the run were 6th most of all 4-3 defensive ends.
It warms Joe's heart to see Johnson be so strong against the run. Stopping the run makes an offense one-dimensional, which plays right into the hands of a good defense. But Johnson was signed mainly to put quarterbacks on the ground. Early and often. Two years ago Johnson had double-digit sacks. Last season those numbers plummeted to 3 1/2.
Yes, Johnson was asked to do different things on his defensive line due to injuries and such. However, the Bucs need for him to be more like his 2012 self.