Lovie's Love Sonnet To Mike Glennon
May 9th, 2014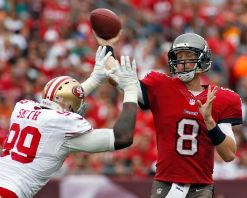 "Just talking about our quarterback position: our quarterback position is as strong as, to me, any quarterback position I've had when I've been a head coach. You know how much I like Josh McCown as our starter here, but I love Mike Glennon. Mike Glennon is our quarterback of the future here. Why would we want to add a third quarterback to the mix? We needed other positions and forget just a quarterback position — yeah, we like it, but we thought this was the best available player for us [in Mike Evans]. It was an easy decision for us." — Bucs head coach Lovie Smith, Thursday night.

Well, Lovie just told fans Jay Cutler and Josh McCown paired up in Chicago were every bit as good as the 2014 version of McCown and Mike Glennon. Joe's not quite sure what to make of that, but it's a powerful statement.
Smokescreen?
Who knows?
Joe just can't put his head on the pillow at night and imagine McCown and/or Glennon hoisting the Lombardi trophy with the Glazer family at their side.
Once upon a time, in 2004, McCown played nearly a full season, 13 starts in 2004. Glennon led the NFL's worst offense last year and was promptly replaced by Lovie in the "starting rotation."
Call Joe a mental patient, but QB remains the most important position on the field. What would the Vegas odds be for a team to win a division title with McCown or Glennon at the helm and Drew Brees, Cam Newton and Matt Ryan in the division?
It feels like Wile E. Coyote chasing the Road Runner.