Lovie Wants To Run, But …
May 12th, 2014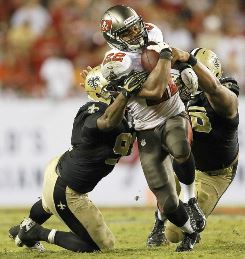 The Bucs drafted two fifth-round guards this weekend on the heels of signing two starting offensive linemen in free agency who are best known for pass blocking.
Lovie Smith and Jason Licht also snagged a rookie running back, Charles Sims, whose value is in his receiving hands, with the 69th overall pick.
Lovie has said he wants to run the football, pound it with a bellcow back, but that's a fuzzy image right now with the current offensive line and after seeing the Bucs' approach to the NFL Draft. The offensive line remains thin. Heaven forbid the Bucs' depth is tested there in 2014.
If the Bucs and Jeff Tedford are going to play to their strengths, then fans likely are to be treated to a pass-heavy offense.
Joe's just fine with that. Lovie had eight years of subpar offenses in Chicago, with one solid one in 2006. A change in approach is welcome.
The pick of Sims, though, remains puzzling on a variety of levels.
Does anyone remember — inside or outside One Buc Palace — that Doug Martin caught 49 balls as a rookie? Joe's got a feeling Martin's going to be fighting for carries for the first time in his career.
Joe gets that the Bucs are going to gamble on the offensive line this year. Next season, if necessary, Carl Nicks' massive salary can come off the books with no penalty, and the Bucs can use some of that cash on the O-line, and pick a premium guy in the draft. Lord knows the Bucs won't be drafting a quarterback next year. They're all set for the future at QB.