Keyshawn Johnson Not Charged
May 3rd, 2014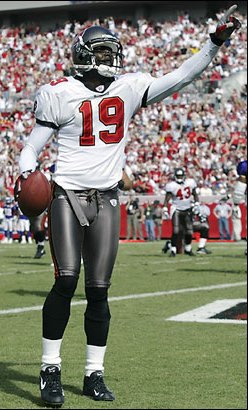 Recently, former Bucs wide receiver and a key member of the Bucs Super Bowl winning team, Keyshawn Johnson, was pinched for allegedly committing domestic violence. Well, it turns out Keyshawn won't be charged.
That's the info. coming out of BSPN.
Johnson's ex-girlfriend, Jennifer Conrad, told a detective her collar was torn and her finger scratched when Johnson tried to take her phone during a conversation on April 21.

The district attorney declined to file charges because Conrad is no longer cooperating and, according to the DA's report, "the injury appears to have been minor and caused accidentally."

"I am pleased that law enforcement acted quickly and that this matter has been fairly resolved," Johnson said in a statement. "The quick decision results from the fact that I should not have been arrested because no crime was committed. I did not and would not touch, grab or strike a woman — any woman. Though Jennifer and I are both pleased that this matter is over, we very much resent the fact that I was ever arrested in the first place. I apologize to my friends, family, fans and colleagues for this matter."
Joe is relieved, though surely not as relieved as Keyshawn himself. Joe used to be anti-Keyshawn and thought he was too much a me-first player, which led to his nickname "Meshawn." But last summer Joe had a chance to meet Keyshawn and talk to him about the Bucs. The guy couldn't have kinder, couldn't have been nicer. In person, he is far from his public image.
Thus, Joe knocked off the nickname.