Itching For Uche?
May 18th, 2014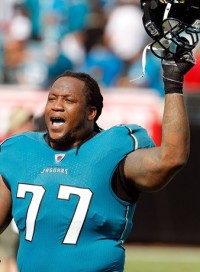 Joe's not all hot in the pants at the prospect of Jamon Meredith or Oniel Cousins starting for the Bucs at right guard, though Joe won't consider turning off the TV like one former Buccaneer.
The thought of a a fifth-round rookie option also is a buzz-kill about now, too, until one proves his worth.
Joe would love to see more competition in the mix.
There's still time to grab a solid body, but sooner might be better. The Bucs get their "OTA" practices going again this week, leading up to their mandatory, mid-June minicamp, and then team breaks up and returns for the late-July/August ritual of training camp.
One guy who could be worth a workout is former Jaguars right guard Uche Nwaneri. He's been named on the All-Unemployed team of ProFootballTalk.com. Nwaneri, who just turned 30, has only missed four starts in the past six seasons.
Offensive guard: Davin Joseph, Uche Nwaneri, Will Rackley.

There is a glut of experienced guards on the market. A former Pro Bowler, Joseph will now be two seasons removed from a broken kne cap. He has drawn a little interest in free agency. Nwaneri and Rackley were the Jaguars' starting guards a season ago. The 30-year-old Nwaneri is the more accomplished player of the duo, while Rackley's age (25 in October) is one of his key selling points.
Joe's seen reports out of Jacksonville that Nwaneri's play slipped last season. He was set to earn $3.7 million this year and got cut before free agency. Despite a couple of team visits, just like Davin Joseph, Nwaneri remains unemployed.
That doesn't mean Nwaneri is garbage. Perhaps he's looking for too much cash, holding out hope somebody desperate comes calling?
Frankly, Nwaneri intrigues Joe a bit because he's been so durable. It's free to look, and Joe sure would applaud the Bucs buying Nwaneri lunch after a rigorous workout on the fields of One Buc Palace.
Bucs defensive line coach Joe Cullen coached in Jacksonville for three seasons when Nwaneri was there. Perhaps there's something he knows about Nwaneri that is keeping the Bucs from taking a closer look?
Joe can only speculate, of course. But Joe does know the Bucs have a pile of salary cap room and a thin offensive line. More live bodies should soon be on the way.