Ignoring O-Line = Healthy Carl Nicks?
May 9th, 2014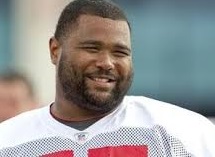 Raise your beer if you thought the Bucs would walk away from the first two days of the NFL Draft with a shiny new running back and no new offensive lineman?
(Yeah the Bucs could still trade back up into the third round, but time is ticking away quickly.)
Joe can only speculate one thing: Lovie Smith and Jason Licht feel great about the prospects for former All-Pro guard Carl Nicks returning to the field.
Nicks, following toe/foot surgery and MRSA-related foot surgery, is rehabilitating at One Buc Palace and told everyone who would listen last month that he believed he could return at 99.9 percent for the 2014 season. But, per Nicks, Lovie Smith told him that 80 percent of his old self would be pretty darn good.
Nicks didn't practice during the three-day April minicamp, but he was an active participant taking "mental reps" on the field and serving as an exuberant water boy.
Now Joe's not counting on Nicks, but it sure seems like the Bucs are.
The Bucs' offensive line is thin. Jamon Meredith was bad last year, and he's the Bucs' best right guard on the roster. There's no depth, and the expensive new left tackle has never started more than seven games in a season.
Joe surely hopes the Bucs know Nicks is healthy enough to count on. That would be a true game-changer for the offense.
Yeah, the Bucs are likely to snag an O-lineman on Day 3, but that would be another longshot — finding an immediate impact starter that late.
Puzzling times at One Buc Palace. The Bucs don't exactly have quarterbacks you want running for their lives.