Hawk Shared His Soles
May 19th, 2014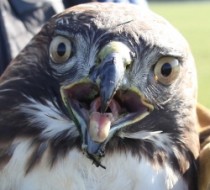 Poor high school kid with a rough life tried to reach his dreams training on a football field, but he didn't have a pair of cleats for proper training.
Bucs safety Dashon "Hawk" Goldson ran into that kid years ago and, with a little help from Hawk, now they're teammates.
Tampa Bay Times writer Matt Baker told the heart-warming tale last night. The youngster chasing the NFL was Bucs rookie sixth-round pick Robert Herron, the wide receiver out of Wyoming.
Growing up in gang-ridden south central Los Angeles, Herron didn't have much.

His dad was in jail. Herron played pee wee flag football because his mom couldn't afford tackle leagues. He never had to sleep on the streets, but he didn't always have his own home.

Soon after he got to high school, his mom couldn't care for him anymore. Herron connected with a cousin through MySpace and showed up at the door of a pseudo-aunt he had never really met.

He had nothing but a backpack of clothes and pair of shoes.
Click through above for the full story. (Boy, Joe sure hopes Roger Goodell doesn't find a way to fine Goldson for this good deed.)
Hawk is recovering from surgery and may not be in Tampa next season given his massive salary, but he's definitely already a team leader in Lovie Smith's locker room. It was even music pounding from Goldson's locker leading players when they returned in April.
Congrats to Hawk for his kindness.