Exciting Day For Bucs Fans
May 16th, 2014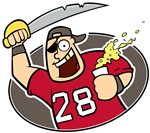 Buccaneers rookies take the practice field today for the opening of Tampa Bay's three-day rookie minicamp.
And you thought this was some sleepy Friday in May, when Bucs fans typically would drink adult beverages and count down the 70 or so days until training camp kicks off!
Nope, Joe will be buzzing around practice and One Buc Palace delivering you all kinds of news, notes, nuggets and words from your newest Bucs.
Stick with Joe through the day, and the weekend.