"Best Available" Crowd Is Euphoric
May 10th, 2014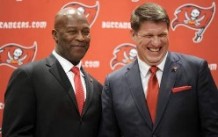 Don't you dare accuse Lovie Smith and Jason Licht of coming to the NFL Draft expressly to try and fill needs.
These guys don't roll that way.The age old debate question at draft time is, "Should a team draft to fill needs or to choose the best available players and sort them out afterwards?" Of course, there is no magic formula, despite the drum-pounding of fans who pick an allegiance to one approach.
But Lovie and Licht clearly leaned heavily toward "best available."
They could have scored impact receivers later in the draft, but snatched one at No. 7. They didn't need a tight end, but pounced on one in the second round. A running back in the third round? That's one hell of a big investment at that position — a position that nobody across Tampa Bay considered a need 24 hours ago.
Joe's not bashing or diminishing the talent of the new rookie Buccaneers. All three of the new draft picks could pan out big time. Hopefully, they will.
But Joe definitely yearned to see the Bucs address the offensive line in a big way. Joe watched enough Falcons football last year — and Lovie Smith's Bears — to see how things can implode when your O-line is weak.
A good O-line is also a big plus for, um, all those running backs and a 35-year-old quarterback whose durability has not been tested.