Demps Can't Stop Wowing Lovie
May 21st, 2014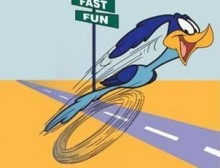 Lovie Smith has been talking up "The Fastest Man In The NFL" for months. The Bucs head coach said he couldn't wait to get Olympian Jeff Demps on the practice field and, based on Lovie's chatter yesterday, Demps has lived up to the hype.
Every day Demps impresses Lovie. What's even more noteworthy was that Lovie referenced Demps when asked about Mike James.
Lovie talked about James needing to stay healthy in the competitive running backs mix and added out of the blue, "this is the first time Jeff Demps has had an offseason also, and every day he's done something to catch my eye, it seems like."
Demps had a heinous fumble in practice yesterday (detailed here), and Lovie was asked about it in a follow-up question.
Lovie brushed off the fumble and said, "I tend to look at that ceiling" of players. Lovie said he's only focused on the great things he sees Demps do.
Joe's not sold on Demps by any stretch. But Joe's darn confident Demps is going to get all kinds of work in preseason to prove himself. That's a good thing for fans because Demps is unique to watch.
It'll be interesting to see how his Road Runner speed meshes with the "cannon" of Mike Glennon and the "speed-in-space" mentality of the offensive coordinator.