Defense Rules, But Still Need A QB
May 2nd, 2014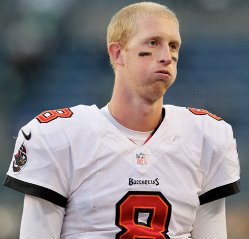 OK, it's Friday and it's time to knock off this nonsense. Joe can't take it any longer and he sure as hell is not going to carry this rage over into the weekend. Enough is enough.
To win a Super Bowl in the NFL, more than once every 40 years, you need a quarterback. No less than an average quarterback. At some point, your team needs to score, unless you bank on six pick-sixes a game. Wanna lay money that happens?
This fallacy of how a quarterback is irrelevant seemed to creep up in an interesting article by Woody Cummings of the Tampa Tribune, this notion that you don't need a quarterback to win a Super Bowl, that your defense and rushing attack can carry a team (and yes, the accident of the Baltimore Crows winning a Super Bowl with Trent Dilfer is the extreme exception, far from the norm).
While Joe agrees a powerful running game is a great asset, a trait Joe enjoys watching as a football fan, a team must have a decent quarterback to go the distance.
A guy Joe very much respects, Mike Mayock, talked about this idea of how a defense and a running game wins championships.
"Football is a cyclical game, and I think it's intriguing that the two best teams in the league last year, in my opinion, Seattle and San Francisco, what was their recipe for success? They played great defense, they ran the football and they asked their quarterbacks to make a less percentage of plays than Peyton Manning and Tom Brady,'' Mayock said. "So the two best teams in the league utilized the tailback and the run game. I wouldn't be surprised to see that come back in vogue.''

It will certainly be in vogue with the Bucs. Smith said almost immediately upon his return to Tampa that he wants the Bucs to get back to the style of football that made them one of the NFL's best teams in the late 1990s and early 2000s.

"When I was here before, there was a certain brand of football that you expected from us,'' said Smith, an assistant under Dungy with the Bucs from 1996 to 2000. "You knew it would be relentless, because we played hard and you got that each week from us and we're going to get back to that.''
Of course, Joe knows there are many Bucs fans nodding their head here. Tell Joe, please, how many Super Bowls did Lovie win with Rex Grossman?
Colin Kaepernick and Russell Wilson may not be Joe Montana or Dan Marino, but they sure as hell aren't Bruce Gradkowski and Mike Glennon.
(Column Intermission Rant No. 1: Knock off the "Glennon had better stants than Geno Smith" crapola. Smith would have had better stats, too, if he was throwing five-yard passes on third-and-nine each and every game. Glennon had much better weapons to work with than Smith, and still finished last — LAST! — in the NFL in total offense.)
(Column Intermission Rant No. 2: The same friggin' people who rag constantly on Shaun King, one of three quarterbacks to lead the Bucs to an NFC championship game, are the very same knobs who cry and bellyache that you don't need a quarterback and defense wins championships. If that is the case, how come the Bucs in the 1999 NFC title game turned in one of the greatest defensive performances in NFL history against the "Greatest Show on Turf" and couldn't win the game?)
(Column Intermission Rant No. 3: When the Bucs won their first and only Super Bowl in January 2003, they did so with a Pro Bowl quarterback!)
Another thing eating at Joe's craw, when Father Dungy was with the Bucs and people pestered him about opening up the offense and he responded, in so many words, "Well, this is the way we won in Pittsburgh." That's not exactly an accurate statement in total.
Go watch the "America's Game" episode of the 1978 Steelers. Mel Blount, one of Dungy's friends on the team, talked about how Steelers coach Chuck Noll addressed the team before the season and, because of the Mel Blount Rule, which changed how defenders could guard receivers, the Steelers were going to start throwing the ball. In fact, the Steelers won three of their four Super Bowls in the 1970s not on the legs of Franco Harris or Rocky Bleier, but on the arm of Terry Bradshaw.
Ben Volin of the Boston Globe documented how teams can dodge the bullet of rotten drafts if they have a solid quarterback. Teams that don't have a solid quarterback are essentially urinating in the wind.
Can we please stop regurgitating this wives tale that you don't need a quarterback to win a Super Bowl? Having a strong defense makes you a better team, a good ground game will give you a chance to succeed, but you need a quarterback to be elite. It's really that simple.