Data Crunchers Quietly Invade War Rooms
May 8th, 2014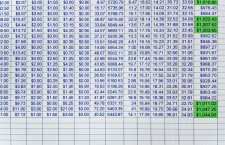 We all knew this was coming. Heck, Bucs general manager Jason Licht told Joe the covert analytics team at One Buc Palace is a key cog in the Tampa Bay scouting machine.
Now we learn from ESPN that the Browns paid six figures recently to study QB data, in addition to the millions already invested in their scouting department.
According to Sal Paolantonio of ESPN, the Browns commissioned a study of the quarterback position that cost $100,000 and entailed a great deal of research into which qualities go into success at the most important position in football. The study began under former team President Joe Banner and was only recently completed, after Banner left.

The study, which used advanced analytics to examine every quarterback who has played in the last two decades, concluded that the best quarterback in this year's draft is Teddy Bridgewater of Louisville.
Has the world gone mad? Not that Joe is unhappy with Bridgewater winning this data Super Bowl for quarterbacks; Joe would love to see Bridgewater as a Buccaneer. Joe's only saying that this kind of investing in spreadsheets — for a quarterback, of all positions– is nuts.
Heck, numerous teams across the NFL won't invest $100,00o to have a QB coach or QB consultant who can actually teach high-level throwing mechanics to their quarterbacks (See Greg Schiano's Bucs teams) — yet a team will pay to pore over reams of mostly meaningless data.
Amazing.