Could Tom Crabtree Fetch A 7th Rounder?
May 9th, 2014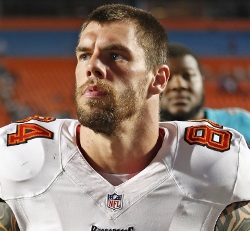 After drafting pass catching manbeast Washington tight end Austin Sefferian-Jenkins in the second round tonight, the Bucs now have seven tight ends on the roster.
That's too many. And now's the time to start trying to move one.
Tom Crabtree, who spent his first three seasons in Green Bay before coming to Tampa last year, seems like a great candidate for the trading block.
Crabtree is healthy now after a bicep tear, and he's versatile, plays special teams and is still young enough at 28 years old. Last season, when Crabtree returned to the starting lineup in midseason, the Bucs' running game mysteriously revived for a few weeks before Crabtree blew out his arm.
Maybe he could fetch a seventh-round pick? There could be a team seeking TE depth tomorrow, for sure.
Here's the Bucs' current tight end depth chart:
Tim Wright: Coming off spectacular rookie year. Worked his way up from fourth on the depth chart. The converted wide receiver is up to 235 pounds and hopes to be 240+ by preseason.
Brandon Myers: Signed quickly in free agency after consecutive strong seasons in Oakland and with the Giants.
Austin Seferian-Jenkins: Your newest Buccaneer!
Steve Maneri: Happily calls himself a blocking tight end. Checks in at 6-7, 280 pounds with next to no fat on him. The coverted O-linemen was a starting "edge-setter" in Kansas City for Jamaal Charles.
Luke Stocker: Rockstar era holdover who is familiar with the trainer's table.
Tom Crabtree: Very solid special teamer and versatile.
Josh Baker: Former Jets depth-chart guy signed in the winter.