Chris Owusu Gets Singled Out
May 27th, 2014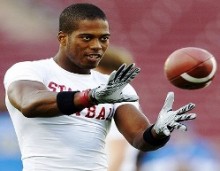 Bucs wide receiver Chris Owusu has turned into a bit of a practice phenom the past couple of years.
The guy runs crisp routes, catches everything, has plenty of speed, and he looks the part.
But then it seems to fall apart for him when the lights come on. Last year, Owusu was a training camp superstar but fumbled a punt, dropped a kickoff, dropped two passes, and seriously injured his ankle on a first-half-ending reception during the preseason opener.
Owusu wasn't heard from much again, despite major changes in the Bucs' receiving corps.
But Owusu is back, and today Lovie Smith singled him out — without being asked. The head coach said Owusu has "been pretty good since Day 1" and "caught my attention."
Those who have followed Joe's practice notes this spring would know Joe has been impressed by Owusu, too. He runs very crisp routes and seems to have a strong "catch radius," to use the popular scouting term.
As Lovie would say, "this is underwear football." It doesn't mean a lot, but it is something.
Lovie also has referenced the 4.3, 40-yard-dash speed Owusu had in college on more than one occasion.
Owusu has a shot to make the roster. Not much, but it's there.