Charles Sims: Kick Returner?
May 19th, 2014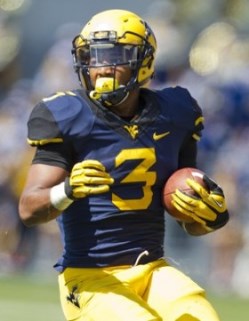 One good thing about rookie minicamp for draft picks is coaches can try them out at different tasks without taking practice snaps away from veterans.
That seems to be the case already with running back Charles Sims.
Joe already brought word that Sims was involved in punt returns this weekend, the first time he has ever done that.
Joe also noted how Bucs coach Lovie Smith is concerned about the current flux of the Bucs' return game.
So don't be surprised if Sims becomes a kick returner. Lovie confessed that is a very real possibility.
"Yes, with new guys coming in, we searched their history a little bit, to see what they've done, from Pop Warner on," Lovie said. "Charles has returned, feels comfortable with the kickoffs. I wanted to know if he's ever returned punts – he hasn't. If you have good hands, normally you can do a few things, and we'll keep working on that."
Uh, oh. There's that comment on his hands again (think Sims won't be targeted in the passing game?). For the record, Sims returned just four kicks in college, all last season, for a total of 53 yards.
It will be interesting to see how Lovie attacks the return game. He clearly believes the Bucs need an upgrade. Who doesn't? Eric Page showed some moments, both good and awful last year. And we know now how the Bucs missed out on Devin Hester this winter.