Busy Day For Bucs Fans
May 20th, 2014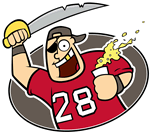 The Bucs are back on the practice field this morning, and Joe is here at One Buc Palace to bring you the sights, sounds and assorted fun.
It's the full team today, rookies mingling with veterans, and then talking about it afterwards.
Stick with Joe through the day and night for all the need-to-know.