Bucs Primed For Summer Spending Spree
May 12th, 2014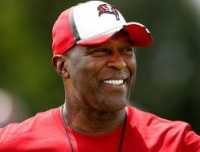 "We need to get our new general manager in here, but just as a general rule, you know there's a reason why there is a salary cap.  And we want to use all of our resources to get as many good football players in here. It's kind of as simple as that … We want to be right up; we don't want to have a lot of money in reserves. No one does. I mean you want to use money to get as many good football players. And it takes money to get good football players in here. So that's our approach." Lovie Smith, January 2014.
Shortly after Lovie Smith was hired, he talked (interview here) about how the concept of not spending all available salary cap dollars ran counter to his core beliefs.
Well, the Bucs didn't make any fancy, expensive draft-day acquisitions like the 49ers did acquiring Stevie Johnson, and they didn't make bold moves to get back into the first round and draft another expensive player. So Tampa Bay still has a pile of salary cap room for 2014.
OverTheCap.com and other outlets peg the Bucs with more than $12 million under the cap after 2014 picks are signed.
Now Joe doesn't now exactly how Lovie defines "we don't want to have a lot of money in reserves, but Joe thinks the quote above is pretty darn clear.
So when where and how will the Bucs spend this available cash?
Joe suspects the Bucs' pro scouting department will be working overtime this summer scouring the league for talent that could be released as part of a personnel change or salary cap maneuvering.
One thing is certain, the Bucs will have all they money they need to pounce.