Bucs Fans Turn Out For Evans
May 9th, 2014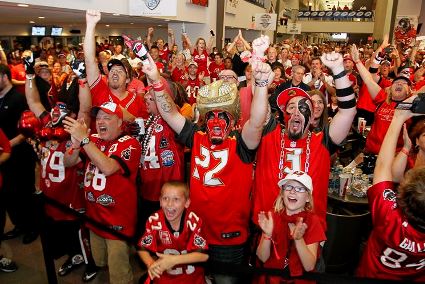 Bucs fans seem generally giddy today, except when they're attacking Joe in waves upon waves upon waves of hate and angst both here and on Twitter for no good reason.
You would have thought Joe engineered a plot to have Son of Bob become the next starting quarterback.
Joe knows the honeymoon is in full swing for new Bucs coach Lovie Smith and general manager Jason Licht. Last evening was further romance as the Bucs drafted wide receiver Mike Evans with the seventh pick in the draft.
Even Evans, who is so new to town he probably doesn't even know who Dale Mabry is, is feeling the warm embrace of Bucs fans and is energized by it.
When the Bucs took Evans from Tampa International Airport this morning to meet the pen and mic club and start doing paperwork for his new job, Evans was met by a rowdy group of Bucs fans at the airport to welcome him to Tampa Bay.
"A lot of fans showed their love," Evans said. "It is great. It shows we have a great fan base. I'm looking forward to that."